"Afternoon Thoughts" (Updated 8/20)
Good mid August morning!!! Yes popular to contrary belief it is still August. I wrote a very similar opening to my afternoon thoughts section back in May as temperatures were also well below normal for May standards. So we had a cold entrance to warm weather and a cold entrance to the end of warm weather. Morning lows this morning were right on forecast with lows getting down into the mid 30s in the northern Pennsylvania Mountains. So far the coldest temperature I have seen out of an official reporting weather station is 37 at Bradford. But I am sure some mountaintops in that region got into the mid 30s with probably patchy frost. Also there were lots of reports of dense fog in the river valleys up north as the temperature contrast between water and ground was so significant. Elsewhere most areas got into the low 50s and 40s. I got as low as 47degrees, which broke the record of 50degrees set for the date. So where has August gone? I have no idea. It seems like August never even began. I have only seen one 90degree day and that was on August 1. Philadelphia has only seen two 90degree days and they average 7.5 in a typical August. Temperatures are ranging from 2degrees below normal in the east to up to 6degrees below normal in the Laural Highlands. Some of the higher elevations have failed to hit 85degrees and above all August. Typically when I think of August, I think of blistering and scorching heat with high humidity. But not this year. I have seen unusual things in the past couple of days including Canadian Geese flying south already in their large triangle flocks. I have also seen some of the smaller maple trees begin to turn red. Last year was a very unusual fall in which the leaves peak color did not occur until November. But I think this year will be a much earlier year. Now the early color of the leaves can be blamed on the recent lack of rain for the most part and the cooler temperatures. But as for the lack of strong sunrays changing the leaves color, that does not occur until late September and October. As many know I am very much looking forward to the start of fall. There always seems to be a renewed sense of happiness and spirit in people as the temperatures slowly become slightly crisper and the beautiful colors in the leaves begin to show. But then the depression sets in for lots of people, as the long and cold winter is ahead right after the holidays. I always consider winter my favorite season, but it just may be a tie with Autumn. I love all of the pumpkin festivals to walk around in and see the fall decorations at the local flower nurseries. So what will the season of Fall bring… My early thoughts are a pretty cool fall with temperatures; along with possible early snows in November along with early frosts in September. I do not think any periods of very warm weather look likely probably until next Spring. Now that doesn't mean we will not be in the mid 80s sometimes, but I am starting to doubt whether we get to 90degrees again in most areas, excluding Philadelphia. Anyways, enjoy this weather as another cold night is ahead. Have a great day!!!

"Regional Radar"

(Courtesy of NOAA)
"Regional Satellite"
(Courtesy of Penn State Meteo.)
"Regional Advisories"

(Courtesy of NOAA)

"Short Term Forecast" (Updated 8/24) (Monday through Tuesday night)
More of the same weather pattern is in store for the short term forecast. A strong cold front will be moving across the state for Monday. Unusually dry and cold air will follow the front as another steep upper level trough moves in the region. Evidence of this is shown as frost advisories and freezing warnings are out for the upper Midwest. Models generally print out less than .1inch of rain with the frontal passage. Moisture is limited and instability is quite marginal with CAPE values less than 1000 j/kg. A few showers and thunderstorms could occur with an isolated storm possibly being on the strong side. But overall activity should be isolated at best with maybe one area seeing .75inches of rain with the strongest of thunderstorm core. Highs for Monday will be in the low to mid 80s maybe hitting 90degrees near Philadelphia. PWATs will remain near normal deviation before dropped 3 deviations below normal by Monday night. By monday night the front will move out to sea. Dewpoints will drop in the upper 40s and winds will calm. Skies will be partly cloudy. Radiational cooling will take into effect for Monday night with lows dropping into the upper 40s in the north and mid 50s in the far south. Some morning river valley fog could occur Tuesday morning as the temperature contrast between water and air will be quite extreme. Tuesday looks to be a beautiful day with clear skies and a nice northwest breeze. Temperatures Tuesday will not even make it up into the 80s for most areas. Winds will calm and skies will clear Tuesday night making for quite a cold night. Temperatures could drop into the 40s as far south as the turnpike with possible upper 30s across the far northern tier. I cannot rule out a patch frost also in the deep valleys. Again more river valley and ground fog forming late Tuesday night.

"Current Surface Map and Weekly History of Jet Stream Position"


(Courtesy of Weather Underground)

"Long Term Forecast" (Updated 8/24)
The long term pattern is continuing to look very quiet weatherwise with drier than normal conditions and cooler than normal temperatures. The computer models continue to push several troughs through the region and then by early September it appears as if temperatures will become near normal as conditions become zonal as the PNA and NAO both become negative. No real sign of any major rainfall coming. Maybe some of the remnants of Fay. Areas in northcentral Pennsylvania have now been put as dry conditions on the CPC drought monitor. Here is a quick recap of the coming week. Wednesday through Wednesday night look to be very nice days with well below normal temperatures. Clouds will begin to move in from west to east early Thursday morning thanks to the remnants of Fay. Thursday through Friday the weather looks unsettled as rain showers overspread the region. There still is high uncertainty on whether or not Fay actually affects the region, so this will need to be monitored. By next weekend another deep trough moves over the region as indicated by both the EURO and GFS. The EURO shows signs of a cut-off low forming in southern Canada during this time which would keep temperatures below normal, but keep the weather unsettled with daily chances of diurnal showers and weak thunderstorms. Thunderstorms will probably contain hail if this threat does in fact occur. Looking way into the long term GFS by the second week of August it looks like more troughs continue to dive down out of Canada keeping temperatures back below normal. GFS keeps precipitation chances pretty low for the extended term.

"Wildfire Outlook" (Updated 8/20)
Well as we begin to enter the season of Autumn, the Pennsylvania forest fire season begins. Dry leaves covering the ground along with dry humidity and gusty northwest winds are the perfect variables for wildfire development. I did hear just last week that a small forest fire occurred in eastern Pennsylvania. I am not sure where, but I did hear it was caused by careless campers. Please remember to act responsibly when out camping in the woods to prevent careless fires from forming. Looking ahead at the end of this week through the weekend, conditions remain dry along. But winds will remain light and dewpoints will be on the rise. It does not appear as if any natural fire formation should occur. Still though take precautions when out in the woods. Looking across the United States the highest fire threat is over the state of Wyoming as conditions are ripe for development. So overall another quiet wildfire outlook. Here again are the fire criteria for development in Pennsylvania... Link.

Criteria for rapid initiation and spread of wildfires in PA:

1. Winds must be sustained at 15 mph (13 knots) for two hours or more, and

2. Minimum Relative Humidities (which usually occur in the afternoon) must be 30 percent or less, and

3. 10-hour Fuel Moistures must be 15 percent or less (and expected to remain there for two or more days).

"Fire Outlooks from Storm Prediction Center Days 1, 2, and 3"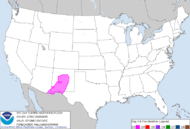 (Courtesy of NOAA)

"Gardening Outlook" (Updated 8/20)
For the gardening outlook, conditions remain very dry over Pennsylvania. Well below normal precipitation has been recorded this month across much of Pennsylvania. Some areas have seen less than a half-inch of rain. You can see my rain statistics below. It appears as if watering will be necessary for the next couple of days as northwest winds and dewpoints in the 40s really dry the ground out. As for warm weather crops, conditions will stay cool along with cool nights so they will not fair well. I have already begun to dump some of my pots of Petunias. As for my vegetable garden here is an update… Well I changed some of my chicken wire fence around to help protect against the groundhog and it seems to be working very well. I took my weak stakes out of the ground holding the fence up and took the trunks of small trees I chopped up last year and sawed down wooden spikes at the bottom of the trunk. Then I used the trunks and branches to put around the chicken wire fence surrounding my garden. This is much more sturdy then before. Then I took a staple gun and stapled around the fence to my wooden raised bed gardens. Talk about making use of your resources. On to my plants… My lettuce is growing wonderfully in this cool weather and it definitely going to make for a great harvest throughout the fall. I planted butter crunch seeds. My spinach is slowly dying and I am not sure why. It never really grew and now it is turning brown. I may buy some more spinach seeds and replant. My tomatoes are finishing up their crop. I have just picked about all of the romas except for maybe a dozen. My pepper plants are continuing to grow, but the actual peppers seem stunted in growth thanks to the cold weather we have been having. My cabbage and cauliflower plants are still recovering from the groundhog damage. I may have to replant new cabbage this week. The cucumber plant has really taken off, I cannot figure out why. There are at least a dozen cucumbers growing on it. As for the zucchini, I only have one out of six left and it is still producing very slowly. But the actual zucchini growth has stopped because of the cold weather. My blueberry bushes are still looking healthy. I did dig up my carrots, about 100 of them the other day and I am hoping to plant a late season harvest of radishes in their place. My herbs are doing great. I have so much parsley and basil; I do not know what to do with it. My garlic chives taste great, but they sure do grow slowly. And lastly my scallions are growing wonderfully and much faster than they did in the Spring.

"Soil Moisture Anomalies and 5-day Precipitation Amounts from Hydro Prediction Center"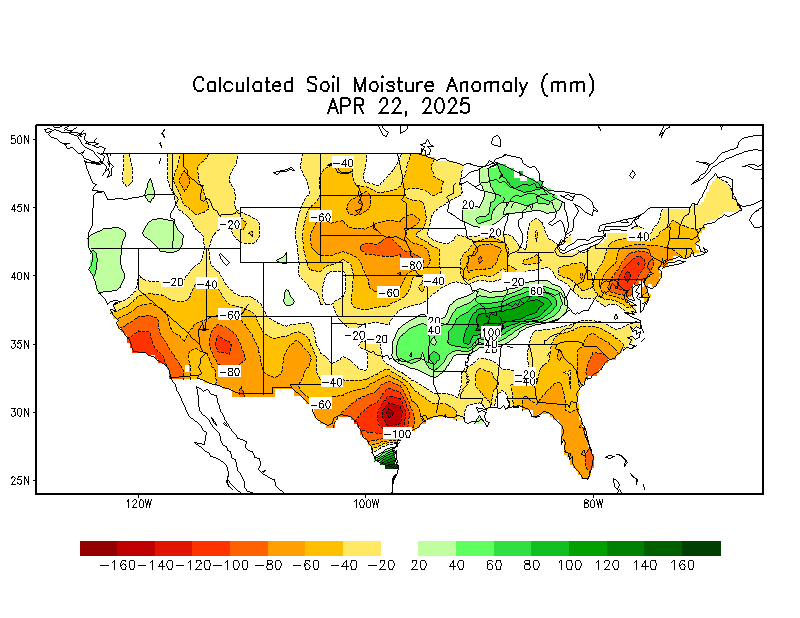 (Courtesy of NOAA)

"Severe Weather Outlook" (Updated 8/20)
Severe weather chances remain very dim over the next couple of days. We are in a very quiet weather pattern controlled by an abnormally strong high pressure to the north keeping all weather systems out of the Northeast. The best chance I see of thunderstorms is with the next frontal passage for Sunday and Monday as a strong trough moves through. I really have not looked into any severe weather chances with this front, but shear looks to be marginal along with marginal thermodynamics. But it is still early on, so things could change. As of right now Fay does not look like it will have much of an impact on our weather as it continues to do loops in the southeast for the next seven days. Overall this severe weather season as a whole has been pretty quiet across Pennsylvania. The only thing unusual has been the abnormal amounts of hail. Some areas have seen so much hail that they had to shovel it. I guess that is part in thanks to the continuous cold pocket aloft. Severe weather season is quickly coming to a close, as soon thermodynamics do not become as extreme. But still I have seen some nasty severe weather outbreaks during the fall months. And we all remember the severe weather of December 1, 2006. So still severe weather can occur during the next couple of months, but it is definitely not as likely.

"Severe Weather Outlooks from Storm Prediction Center Days 1, 2, and 3"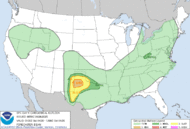 (Courtesy of NOAA)

"Monthly Outlook" (August)
Here is my experimental monthly outlook for the month of August. July has already come to an end and here is a little recap. Overall the month came out about normal for temperatures along with varying areas of precipitation anomalies. Some areas saw normal, below normal, or above normal precipitation. Overall my forecast turned out very well with my call for normal temperatures and normal precipitation. I am very pleased with how everything turned out. Now we look ahead to the last of the meteorological summer months. August is known for its complexes of thunderstorms and scorching heat. So what can be expected... Will it be hot and dry? Will it be cool and wet? Well below is my look for what I believe will be the August weather for this year...

Temperature- Looking at temperatures as we enter the month heat will be across much of Pennsylvania with temperatures above normal and in the 90s. But then a trough moves back into the region, and by next week the models really bring in a deep trough over the eastern sections of the nation. Looking at the NAO it looks to be staying negative through the entire month of August, which is indicative of eastern trough development. Now on the other side of the nation in the west the PNA will be moving towards a positive state, which correlates to a ridge over the west and trough over the east. So looking at the first part of the month will be warmer than normal temperatures followed by cooler than normal temperatures the last two thirds of the month. So overall temperatures should average about normal when it is all said and done and the warm air balances with the cool air.

Precipitation- Precipitation should be above normal for much of the state for August 2008. An active jet looks to be stationed over the region with first large MCSs moving along the northern perimeter of the ridge associated with warm air advection. This will bring heavy rain with these thunderstorm complexes. Then with the sudden pattern change from ridge to trough a large cold front should bring in some heavy thunderstorms. By the time the trough moves in many short waves will rotate in on the northwest flow. The driest area will probably be in eastern Pennsylvania with the wettest in northwestern Pennsylvania. But overall most areas should be above normal. This will be good for our lawns and gardens. Looking at drought conditions across the state all areas are not in any threat of a drought in the future.

"Temperature and Precipitation Outlooks from Climate Prediction Center for next 30 days"


(Courtesy of NOAA)

"Tropical Update" (Updated 8/28)
Tropics are surely heating up fast. The African wave train is in high gear and the Caribbean is fastly threatened by approaching tropical systems. There is a lot of details that involve these tropical systems, but this section will just be an overall summary of the tropics. First off I want to start off with the latest on Gustav, which is currently located over the island of Jamaica moving west slowly at 5mph. Pressure though has been steadily declining to near 985mb and sustained winds are near 70mph with gusts over hurricane force. Currently models continue show rapid development as the island moves between the Yucatan Peninsula and Cuba. Water temperatures are above normal across the southern parts of the Gulf of Mexico and shear values are low below 5knots. All factors favor continued development. Water temperatures though are slightly lower than previous years along the southeast coastline. As high pressure remains over Florida and a trough digs down from the Midwest lifting Gustav northward. I expect Gustav to become a major hurricane as it moves northward. Currently I am looking at a landfall across western areas of Louisiana and eastern Texas. Shear levels slightly increase later in the period, so if the storm slows towards land, then it will gradually weaken. I still expect Gustav to possibly be a major hurricane upon landfall and all interests across the southeast coastline will need to be monitored for a possible Tuesday landfall. Now onto our next tropical storm, Hanna which is churning across areas north of the Antilles continuing on a west-northwest track with sustained winds of 40mph. Hanna is suffering from some pretty significant shear values and dry air. An upper level low to the north is also impacting Hanna. One thing Hanna does have is a definite low level circulation with a strong swirl. Convection remains to the east of the center, but shows signs of moving over the center. I think Hanna will have a slow time strengthening as it meanders to the west. A blocking high to the north will keep Hanna moving irradically and at a slow pace. I still am not quite sure on a track, but the Florida coastline, Bahamas, southeast coast, Bermuda, and even Gulf of Mexico coastlines need to be alert. Another area of concern is a new Invest, 96L which is sitting off in the Bay of Campeche. This system could be a quick-hitting system as it develops and shortly moves westward into the coastline of Mexico. I would not be surprised if this became a marginal tropical storm right before landfall with the main threat being heavy rain. It will be interesting to see if this area of unsettled weather will have any impact on the track of Gustav. Lastly, the African wave train has started with a strong wave moving off the coastline which could develop in a few days. An area of unsettled weather in the middle of the Atlantic has some showers and thunderstorms, but shows little signs of developing under some high shear. So right now we have five areas of concern. Hold on, it could be a bumpy ride. Preparation is the key, and stay tuned to the National Hurricane Center. Anways have a great evening!!!

"Latest Tropical Systems including Sea Surface Temperatures"



"Regional Forecasts" (Updated 8/28) (Friday)
1. Eastern- (Allentown, Southern Poconos)-
Mostly cloudy to cloudy conditions. Occasional light rain. Drizzle throughout the morning. Very cool with well below normal temperatures. High 73-76.

2. South Central (Harrisburg, York, Lancaster)(my home)-
Overcast skies with occasional rain showers. An isolated thunderstorm cannot be ruled out. Very cool with below normal temperatures. Up to .1inches of rain is possible. High 72-75.

3. Southern- (Philadelphia)-
Mostly cloudy with an isolated afternoon thunderstorm or rain shower. Cool conditions. High 79-82.

4. Central- (State College)-
Overcast skies with some light rain showers. .1inches of rain is possible. Cool temperatures making for well below normal high temperatures. High 72-74.

5. Northern- (Erie, Bradford, Williamsport)-
Overcast skies with some light rain showers throughout much of the day. .1inches of rain is possible. Cool weather. Possible low cloud ceilings (1000ft). High 70-73.

6. Western- (Pittsburgh)-
Overcast skies with light to moderate rain showers. .1inches of rain is possible. Areas of morning fog (3-5miles vis.). Cool temperatures. High 71-74.

7. Johnstown, Altoona-
Cloudy with occasional rain showers. Up to .25inches of rain is possible. Cool temperatures with well below normal temperatures. Possible low cloud ceilings (800ft). Areas of morning fog (1-3mile vis.). High 70-73.

***Note on regional map, the number equals which region in Pennsylvania. I chose regions with similar climates, geography, and elevation to make my overall forecast for the region.



"Here north of Harrisburg 2008 statistics"
(Severe Weather Stats...)
Severe Thunderstorm Watches- 8
Severe Thunderstorm Warnings- 4
Tornado Watches- 1
Tornado Warnings- 0
Total Thunderstorms- 29

(Precipitation Stats...)
Flood Watches- 4
Flood Warnings- 5
Monthly Precipitation- 1.36inches
Yearly Precipitation- 29.21inches

(Temperature Stats...)
Heat Advisories- 4
Excessive Heat Warnings- 0
90degree days- 12
A calm end to a day after a hike through Boyd Big Tree Conservation Area...
A farewell to summertime as meteorological summer shortly ends by the last day in August.